TV Banner - Logo ©1997 BBC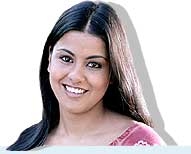 Pooja as kareena - © BBC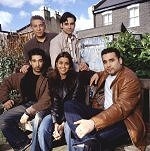 Ferreira Clan - © BBC


&nbsp
In July 2002, about a month after returning from filming in Spain, Pooja was invited to a EastEnders workshop. During the next six months she was called over few times and eventually in November she got the phone call that they wanted her to play the role of the sister in the new family being introduced.
On the 9th April 2003 she walked for the first time on to the Albert Square Set for filming.
She appeared for the first time on our screen in EastEnders on 3rd June 2003.
About the Soap
Set in the fictitious London Borough of Walford, EastEnders is an on-going story of life in the East End and focuses on the multi-racial community who live and work in and around Albert Square. Its storylines move effortlessly between comedy and tragedy, and though it never shies away from controversial issues, it is fine family entertainment enjoyed by people of all ages. Its appeal knows no borders. ©1997 BBC
Pooja's role
Pooja plays the part of Kareena Ferreira.
About Kareena Ferreira
The Ferreira family consists of father Dan, and sons Ash, Adi and Ronnie, along with daughter Kareena. The Ferreiras are of Goan descent
Kareena's such a sweet and kind girl, it's hard to imagine anyone disliking her. In the absence of her mother, she keeps up the day-to-day running of the Ferreira family home.
Official EastEnders Site